Sustainable | Profitable | Scalable
Maximizing the Impact of Our Projects
New Energy Equity works with your business to achieve your renewable energy goals with solar power. Through national planning, financing and installation, our seamless process amplifies your sustainable success as you grow. Scaling solar development across diverse markets and states requires a deep understanding of the complex energy landscape, regulatory frameworks, and financial considerations. New Energy Equity brings 30 years of expertise and a proven track record in successfully navigating these challenges.
With our extensive network of industry partners and comprehensive knowledge of state-specific incentives, policies, and regulations, we ensure a streamlined and efficient process for solar project development. We handle all aspects, from initial feasibility assessments and site selection to engineering, procurement, construction, and ongoing operations and maintenance.
New Energy Equity is your trusted partner in developing a scalable plan for integrating solar energy into your company's sustainability strategy. We specialize in helping corporations across multiple states and markets harness the power of solar to drive environmental impact and long-term financial benefits.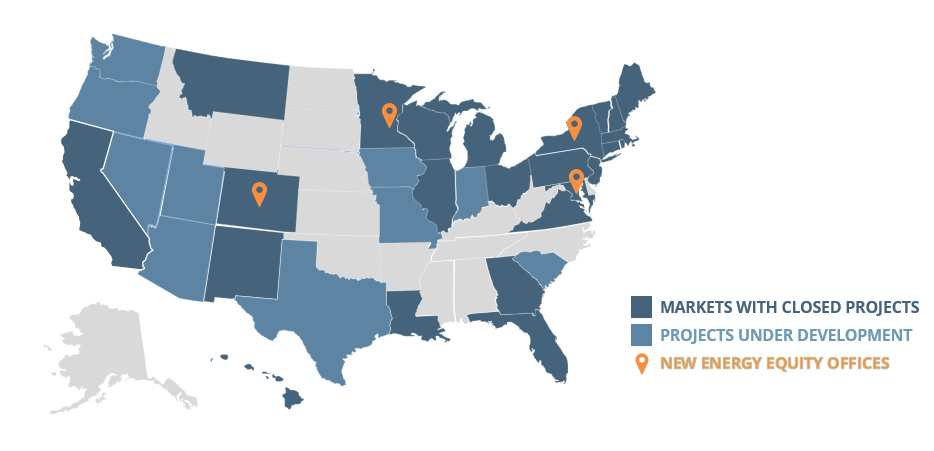 Contact our team today to find out how solar can help your business!
Our team of solar energy professionals is dedicated to crafting tailored solutions that align with your corporate objectives, whether you're aiming to achieve sustainability goals, or unlock cost savings through renewable energy. We understand that each corporation has unique requirements and constraints, and we take a collaborative approach to design a solar strategy that fits seamlessly into your existing operations.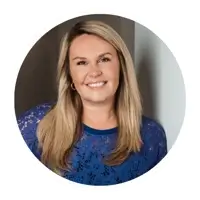 Krisy Wogen
Email: krisy@newenergyequity.com
Phone: 612-716-3988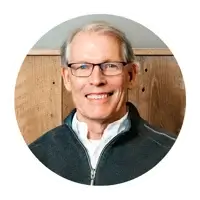 Steve Oman
Email: steveo@newenergyequity.com
Phone: 612-850-8320
Not the right contact? Let us handle it.
Interested in exploring solar but prefer we connect with someone else in your organization? Click the "Contact Us" button to provide their info. Include your name in the form as the referral.
Unparalleled Expertise
With over 30 years of experience in the solar industry, we are leaders in delivering tailored solar solutions for commercial clients. Our team of seasoned professionals understands the unique challenges faced by corporations like yours and possesses the expertise to navigate complex projects seamlessly.
Maximum Cost Savings
At New Energy Equity, we recognize the significance of your bottom line. Our comprehensive solar solutions are meticulously designed to reduce your energy costs drastically. By harnessing the power of the sun, you can enjoy long-term savings that positively impact your financial performance and give you a competitive edge.
Have Questions? We Have Answers.
Are you ready to explore the remarkable benefits of solar energy for your business? Don't miss out on this incredible opportunity to save money and achieve your company's sustainability goals. Simply provide us with the contact information of the best person to discuss this matter, and we will swiftly reach out to you with a personalized plan of action.
Together, we'll delve into the specifics of your business, understand your energy needs, and develop a customized solar plan that delivers unparalleled results.
Goals Oriented for YOUR Business
Maximize Return on Investment

Maximize federal, state and utility incentives & credits
Combine multiple projects that allow for an economy of scale

Analyze your property portfolio and generate a solar adoption plan that combines benefits of owned arrays & PPAs
Align future solar projects with your company's ESG Goals
Monetize Your Roof
Your roof could be making you money, or provide an added value to the tenants you hope to attract to your buildings. Don't let a perfectly good roof space go to waste. Installing solar on your building could be contributing to your bottom line for years to come.
"Our customers benefit. Our staff benefits because they're engaged in something they believe in. Our investors get a good return on their investment. It is absolutely a win-win, and I can't think of any reason why you wouldn't put solar on every rooftop."
Alan Spaulding, CEO, At Home Apartments
"Sustainability has become a mantra that drives consumer behavior. And, we're proud to serve customers and partners that are similarly committed to safeguarding our collective future by heeding the scientific community's warnings and calls to action."
Mike Lane, CEO, Meyers Printing
Nationwide Coverage
Whether you own properties in bustling metropolitan areas or remote rural locations, we've got you covered. With our extensive network and presence across the United States, we have the capability to implement solar solutions for businesses of all sizes, no matter where you are located. You can rely on us to deliver consistent, top-quality service wherever your properties may be.
A One Stop Shop: Operations & Maintenance

Environmental Stewardship
Converting to solar power is not only a smart financial decision but also a powerful statement of your commitment to sustainability. By partnering with New Energy Equity, you join the league of environmentally responsible corporations actively working towards a cleaner, greener planet. Embrace renewable energy and become a trailblazer in your industry.
Seamless Project Execution
Our end-to-end project management ensures a hassle-free experience from start to finish. Our dedicated team will handle every aspect, from initial consultation and system design to procurement, installation, and ongoing maintenance. You can focus on your core business while we handle the complexities of solar implementation, delivering exceptional results on time and within budget.